For the four (yes, FOUR) times previous to August 2008 that I unsuccessfully tried to run consistently, there were a few key things missing in my plan. Oh, I had "a plan" as I usually do. A trusted schedule off the Internet and a will of steel . . . that often derailed after 5 minutes of huffing and puffing. What was I missing? Ahhhh, glad you asked.
1.) a real live committed running group - with a coach. Both needed to keep me entertained and accountable and safe.
AND
2.) a slew of doctors and instructors to keep this body healthy and injury free. I'm sad to report that too many runners blow this help off. It's because we are stubborn - I mean strong willed. And we are fighters from pain - I mean delusional. But here's the bottom line - If you are sick, you're not going to run yourself well. And if you are injured, you're not going to run yourself healed. A strong, healthy, limber body is a happy happy happy running body. These docs and fitness advocates are here to help you both in your health and in your running! For all that is good and strong and speedy, please let them help you!
Meet Your Tribe
Dr. Eric LeBouef, Sports Medicine
** Dr. LeBouef is great. He's a fellow runner and pretty much the RUNaway Moms sports doc. He is knowledgeable, patient and conservative and his goal is to always get you running healthy. Eric has successfully kept me running since I started back on the trails again in 2008 and also sees my hubby and has given my family doctor recommendations and help with Meredith as well. **
anew Wellness Center on 1488 936.273.3370
http://www.anewchiro.com/contact-us/
College Park Medicine on 242 936.271.2555
http://www.collegeparkmedicine.com/contact.html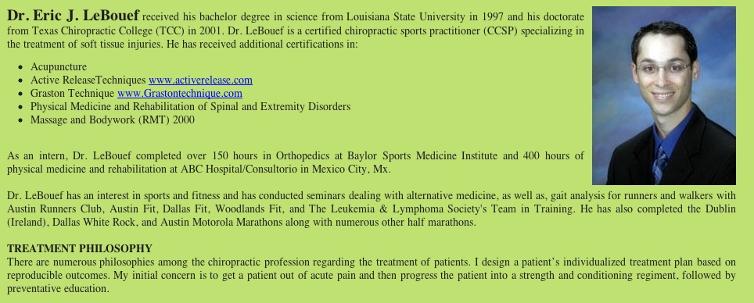 Dr. Christy Leahey, Podiatrist
** Dr. Leahey has treated both myself and my son when he was 9 years old. Great bedside manner and quick to listen and treat accordingly. **
Sweeney Foot and Ankle Care next to Starbucks on Kuykendahl 281.292.4944
http://www.sweeneyfootankle.com/index.html

Dr. Keith Johnson, Orthopedics
** Dr. Johnson has been my "second step" for a few nagging concerns or injuries that required an X-ray or MRI. He's a runner (okay, an Ironman) as well and understands the balance between us wanting to heal completely but also wanting to get back on the trails as soon as possible. He's really good. Approachable, thorough and cool. **
Sterling Ridge Orthopaedics in the medical park on Kuykendahl near Creekside 281.364.1122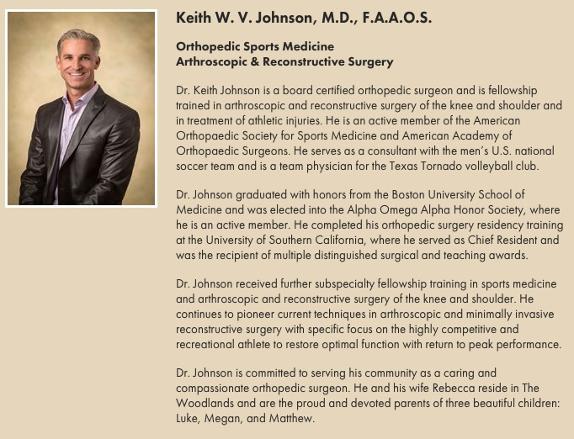 Dr. Chase Banks, Sports Medicine and Nutrition
** Dr. Banks is especially in tune with the nutritional needs of us endurance athlete gals. Don't let his specialty and focus on super athletes scare you - he's just that good and can apply his knowledge to everyone on their needs and athletic level. I've particularly benefitted from his meal planning and nutrition advice. **
Banks Sports Chiropractics off of the I45 feeder road on Budde Road 832.813.8451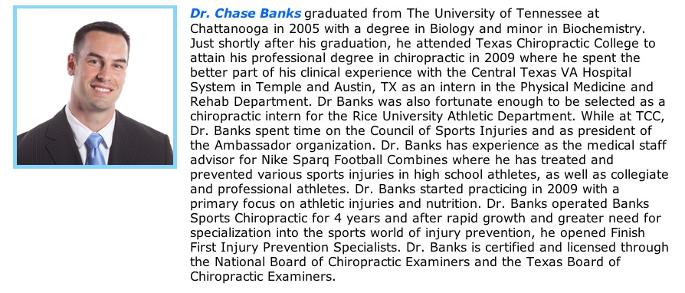 Dr. Peter Bigler, Family Medicine
** My internist and general practitioner for the past 8 years. Great doc. Great personality. Everyone needs a family practitioner. I think he's the best one. **
Bigler Family Medicine in the medical park behind Kroger on Woodlands Pkwy and Kuykendahl 281.292.4944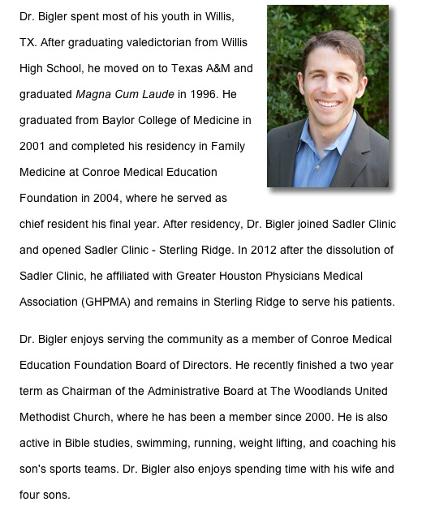 Dr. Amy Bumgartner, Dermatalogist
** I enjoy this dermatology practice a lot and I am a patient of Dr. Bumgartner along with both of my kiddos. She has a nice bedside manner. If you don't have a dermatologist, perhaps it's time to have that full body "scan" looked at. You run outside. Under the bright sun. Take care of your beautiful skin! **
The Woodlands Dermatology on Pinecroft in medical park across from Memorial Herman Hospital 281.363.5050 x135

Dr. Enrique Quintero, Allergy and Immunology
** Allergies and/or asthma will destroy a run . . . and a runner. A lot of times, outdoor exercise exacerbates one or both of these conditions without you even knowing you are prone to allergies or asthma. Dr. Quintero is part of a great practice with two locations in The Woodlands. My son sees him for both allergies and asthma. **
Allergy and Asthma Associates - Kuykendahl in the parking lot next to (not connected to) HEB Indian Springs 281.364.8001
Allergy and Asthma Associates - Pinecroft in the medical park across from Memorial Herman Hospital 281.364.1001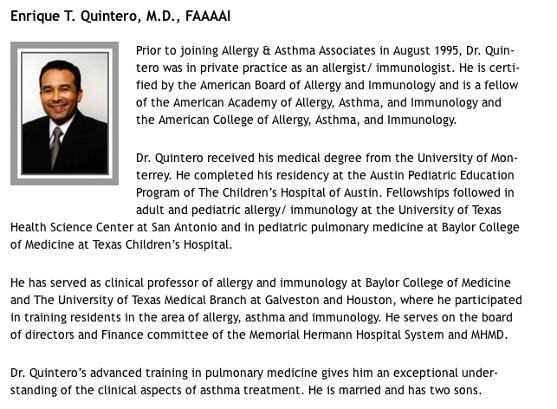 Lisa Clifford, Certified Yoga Instructor
** I've read about cross training for runners for the last 5 years. I've tried lots of activities, even yoga. Nothing has stuck - until now. Lisa has opened my eyes towards the practice to help my running and my health. She's so calm, approachable, knowledgeable and personal. It's helped my running, my hip strength, my balance and my breathing a lot! **
Yoga To Go with Lisa 410.940.8374