Running in the morning has me appreciate all the choices that come later in the day. The choices I make after running seem healthier, wiser and kinder. ~ Deena Kastor
I just think running makes me feel more disciplined. It makes me feel more committed, to not only my job, but to life. It makes me feel I'm doing all I can do to be as good as I can be. ~ Michael Waltrip, Race car drive

I Just Wanna RUNaway

While some of us may be training for upcoming races or greater distances or even faster speeds, your current stage of your running journey may just be . . . running! While I love to train runners and share in their excitement of reaching new goals, my RUNaway joy is also to create a great group of folks that just love to run and want and need a group to keep it fresh and exciting. I want the group to "run away" in every sense of the word.
RUNaway maintenance runs are open to any runners wanting to tackle 2 1/2 - 3 miles on our group run days. There are no strings attached and nothing fancy about these runs, but I'll provide you with a 3 mile route each Tuesday and Friday morning and Sunday afternoon so you can just show up and run away! RUNaway group maintenance runs all take place at the same time as RUNaway 5K or half marathon training, so my attention will be on those training, but, rest assured, you will not be ignored!
So be a RUNaway! Take the time to enjoy outside, meet with friends and get in a pre-routed workout. And recruit friends! If they aren't runners, then the 5K training is on the same days as group runs and you can run together. And if they are runners, then you both have a RUNaway maintenance group waiting for them!!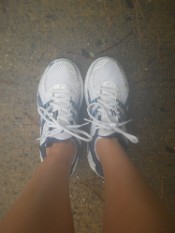 I Just Wanna RUNaway Maintenance

Ongoing. Every Tuesday and Friday morning at 8:40 am and Sunday afternoons at 5:00 pm.

$19/month or $5/run.
Includes:
Personal coach advice when needed

Weekly topics discussed with training groups

Info on local races


Regular attending "RUNaways" will receive an ongoing discount to Luke's Locker