Are you ready to RUNaway?
This fun, relaxed and positive "I just wanna run" group really does RUN AWAY in every sense of the word. You can't stare at the pile of laundry or roll your eyes at the stuff that you've put away 100 times already when you run away. You can't attend meetings or listen to a constantly ringing cell phone when you run away. You can't hear a whining child or a constantly barking dog when you run away. This is YOUR TIME . . . and you will learn to cherish it for many many reasons! For beginners and seasoned runners alike, this group is for you!
Our 2015 5K new runner group is in formation stages right now for our season to start on January 6th! You'll complete your first 5K before the spring! No kidding! And our long distance RUNaways are concentrating on their future races ranging in distance from 10K to half marathons this season. If you have a current running background, feel free to contact Amy to see if this is the perfect time to merge into our mileage and group!
Happy Trails to You!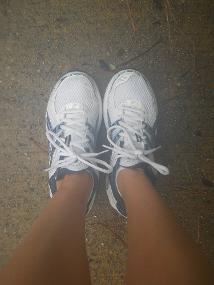 5KPLUS RUNaway
RUNaway Moms needs a minimum of 8 new and crazy runner gals for this group to be a "go" on January 6th! If you are crazy, this is probably your group :) Please register today (full refund if group doesn't form) if interested! This is YOUR group to learn to love running! Work your way up to a 5K distance and see how strong you really are!
Click HERE for more information on the 5K group!
Long Distance Fall RUNaway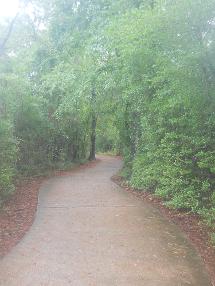 Long Distance Fall RUNaway
Can you run 3 miles without coach Amy coming to pick you up at the 2 mile point? This is your group if you have a 3 mile minimum endurance and we will set our sights on The Woodlands half marathon and 6.5 mile relay as well as other 10 milers, 10Ks and half marathons in our season and year. There is talk of a marathon group training for an October 26.2 as well!
Click HERE for more long distance RUNaway info.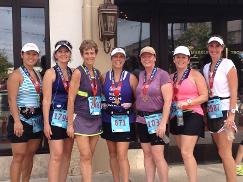 Ten for Texas, October 2013
A handful of the RUNaway finishers after a VERY humid 10 miler.
Liz, Deidre, Pam, Amy, Tracy, Kristin, Kelley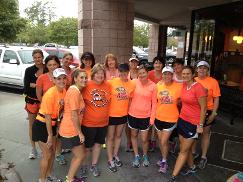 Running for Ansley, October 2013
Showing leukemia how to run far far away.
Carolyn, Presha, Rachel, Andrea, Jennifer, Amy, Jenn, Marsha, Simone, Kelley, Jacque, Janel, Elizabeth, Deidre, Jennifer and Kristin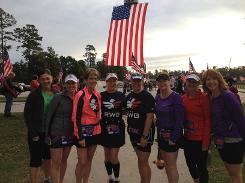 Team RWB, Veteran's Day 2013
5K and 10K runners honoring our veterans.
Simone, Andrea, Pam, Amy, Cathy, Tracy, Jennifer and Janel