Are you ready to RUNaway?
This fun, relaxed and positive "I just wanna run" group really does RUN AWAY in every sense of the word. Never ending housework, constantly pinging emails, all encompassing kid stress, "Why isn't this done?" to do lists - these will take a much needed back seat when you RUNaway. This is YOUR TIME . . . and you will learn to cherish it for many many reasons! For beginners and seasoned runners alike, this group is for you!
Winter/Spring 2017 RUNaway!
Register for the new season HERE
** RUNaway Moms is open each season to runner gals with all different paces and races. You'll find a running buddy that will make this sport all the more fun! Feel free to contact Amy with any questions before you merge into our great group! **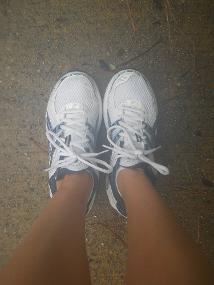 Hello Beginners!
Think you may want to give this running gig a try? Awesome! Please don't fret - running should not evoke pictures of out of breath sprinting followed by throwing up and then icing painful muscles. No no, running is not like that! We take it slow and steady and enjoy running away. And you really can do this! You really can!
The RUNaway 4 day a week training schedule will steadily adapt your body to run a little longer and a little easier each week until you reach your initial 3.1 mile goal. And with 2 days a week to meet as a formal group (you can run solo or meet your new running friends on the other 2 days), your access to a coach and motivation by a group will make it that much easier. Come on, give running a try!
Stay tuned for the next 5K class!
You do not have to have any running background or mileage under your belt before you start. So commit yourself to this empowering sport and fun group today. Sign up by clicking on SIGN ME UP. It will be a great investment! And click on RUNaway Training to learn all about what this group has to offer.
5KPLUS RUNaway
RUNaway Moms needs a minimum of 7 new runner gals for this group to be a "go"!
This is YOUR group to learn to love running! Work your way up to a 5K distance and see how strong you really are!
Click HERE for even more information on the 5K group!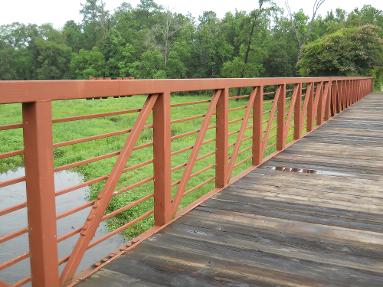 Running Further?
If your endurance is as high as 3 miles of running, then the Long Distance RUNaway training group will be right up your alley.
Morning runs on Tuesday @ 8:40 am, Wednesday @ 8:40 am and Friday @ 8:40 am. We meet at Zoe's Kitchen on Kuykendahl and Woodlands Parkway unless otherwise noted in the weekly email.
Don't worry about your speed. We do have a day each week where you can work on speed and strength, but overall, this group focuses on "happy running" with goal distances and races. We've got a wide array of individual training paces (which shouldn't be as fast as your speedy race pace) from 9 minutes/ mile to 12 minutes/mile.
In addition to the standard RUNaway training plans, you will also have the option to implement a run/walk training plan should that be your style. This may be just the training that you need to get you up to and over that 4 mile/8 mile/10 mile hump! And some very seasoned runners have adopted a run/walk plan . . . and I promise, it is not for sissys :) Rest assured, whether you run the whole way or choose to put some scheduled walking into your mileage, there is a pace and a plan for you in this group and I'll help you find a buddy (or two or three or more!) that matches yours so that you'll have a great run and a great time.
Runners in this group will all start each daily route together and end as your distance and pace dictates. We wait for each other and always have a buddy or more!
RUNaway Fall Training starts Tuesday, January 3rd!
Contact Amy to join mid season.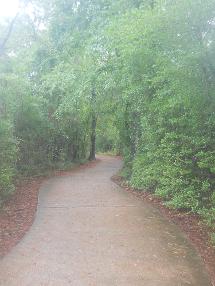 Working Mamma?
Are you channelling your Melanie Griffith "Working Girl" while the morning RUNaways are hitting the trails at 8:40 am? Not to worry! We won't leave you working mammas behind!
New this season is an evening RUNaway long distance training group! You'll be training on the same schedule, same routes and same race focus at your morning sisters. Evening runs on Tuesday @ 5:30 pm, Thursday @ 5:30 pm and Saturday morning at 7:00 am (later when the weather gets cooler).
I promise that a running buddy is the secret weapon of endurance running. Another fellow working mom is waiting for and counting on you to get each other to the trail (getting yourself TO the run is the hardest part) and through the miles. After a few runs, you'll magically match up with your pace partners and find a rhythm together.
Emails will be sent to the entire RUNaway group each week and you'll want to check your schedule, glance at your routes and call or text your new running buddy and complain about the prescribed mileage and workout that Coach Amy has assigned for the week.
On top of your evening RUNaway Mom pals keeping you accountable, Coach Amy will be checking in with you personally via phone or text on how you are progressing and how much fun you are having. And don't underestimate the occasional "oh crap, she's here" attendance of Amy to check in on you face to face.
Gals in this group need to be comfortable at a 3 mile long run and will progress to a 10K, 10 miler or half marathon race depending on your personal goal.
RUNaway Fall Training starts Tuesday, January 3rd!
Contact Amy to join mid season.
Long Distance RUNaway
Can you run 3 miles without coach Amy coming to pick you up at the 2 mile point? This is your group if you have a 3-4 mile minimum endurance. We will set our sights on the some 5 and 10 milers and a half marathon or two each season based on your endurance. And there will always be some really fun 5K and 10K races!
Click HERE for more long distance RUNaway info.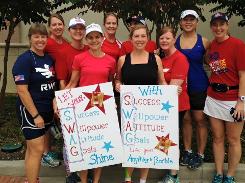 Marine Corps Marathon Send Off
October 2015
RUNaway Moms support each other!
Cathy, Andrea, Andrea, Carolyn, Kimberly, Amy, Wendy, Tracy, Liz and Kelley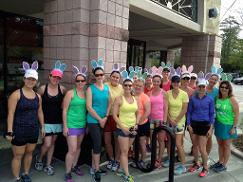 Hopping Down the Bunny Trail,
March 2015
If everyone wears bunny ears, it's not weird :)
Liz, Jennifer, Andrea, Melinda, Tricia, Wendy, Kimberly, Sharon, Jennifer, Patty, Andrea, Candice, Elizabeth, Cathy, Carolyn, Kelley and Deb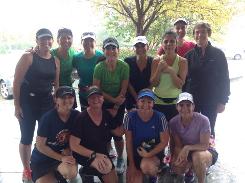 Running in the Rain
November 2014
Raindrops are easier with friends.
Andrea, Tracy, Jennifer, Carolyn, Andrea, Deidre, Cathy, Candice, Wendy, Christal, Kelley and Pam